I recently discovered this brand – POPKULTUR …
And it was completely accidental. A photo popped up in my Facebook profile that had Georgian name – Adjika on it, but the package was VERY different from being "Georgian". So I got interested, sniffed around and discovered Anastasia Lundqvist – the person "responsible" for the deed 🙂 Contacted her right away and … PLEASE enjoy this interview, which is btw the first English language interview on KAR.GE Movement website.
Kar.ge: Dear Anastasia, please tell as a bit about yourself so that we better understand your motivation of producing Georgian spices.
A.L.: Hello! Thank you very much for the opportunity to interview. Actually I never imagined myself to do the spice blends from Georgia. I was born in Central Asia in sunny Kyrgyzstan and immigrated to Sweden with my parents 16 years ago. I studied international relations and had an ambitious plan for career in international development. Travelling to different countries sparked my interest in ethnic food and especially spices. What makes food taste different in different parts of the world? Spices, herbs and condiments! Asian food is lemon grass and ginger, Middle East is cumin, cardamom and sumac, Nordic countries are dill, salvia and allspice. I explored spice markets in every country I visited, made friends with the spice sellers and got bellowed once at the market in Yogyakarta by buying 1 kilo of fake vanilla pods.
Kar.ge: How you got "infected" with Georgian spices? Why do you like Georgian spices so much? Are they somehow "special"?
A.L.: Georgia, Georgian cuisine, wine, nature, and hospitality are an irresistible blend for everybody to be enchanted by Georgia. I felt in love with people and food, it reminded me of my years in Kyrgyzstan and at the same time I was like Alice in wonderland discovering new "eat me" things. I was experimenting at my kitchen by doing Georgian dishes and they could not find the spices in Europe that give that particular Georgian flavor. So, I got a crazy idea to make my own blends by importing some of the ingredients from Georgia.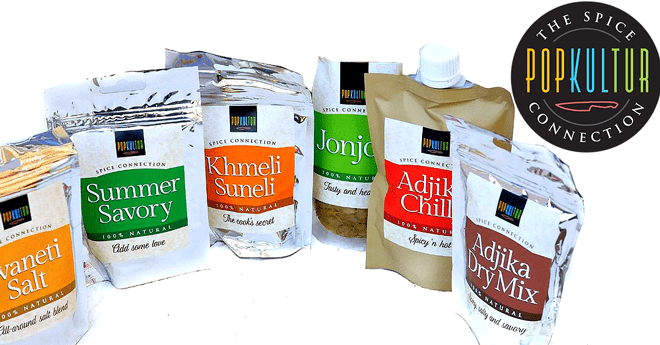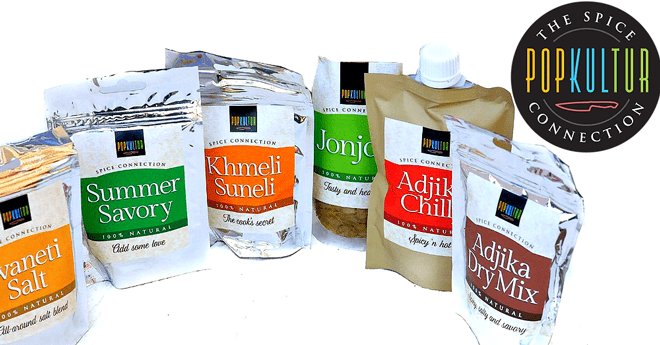 Kar.ge: So, you produce spices in Sweden? And export spices from Georgia as well? Please tell us what do you produce, when did you started this production up and why?
A.L.: I travelled in Georgia to collect different samples of Svanetian salt and all of them were different, depending on the producer. Those times I could not find a producer in Georgia to import the blends to Sweden due to strict control and regulations. So, I came up with my own blend by adding sea salt to give a particular mineral and mild taste. I wanted to give a luxury and at the time funky touch and came up with The spice connection Popkultur as a brand. I put a map of Georgia on the label to promote Georgia as a culinary country. I had fortune to find a very good designer who could implement my ideas and put it on the paper. Spices like summer savory, dry adjika and jonjoli cannot be produced in Sweden and I was lucky to finally find a reliable producer in Georgia that met all the requirements to import to Sweden. But I still have my own blends, that is my "baby", people like these blends and the response was very positive.
Kar.ge: How do you market and sell Spice Connection products in SWEDEN?
A.L.: Now I sell the spices via my webshop, ethnic shops in Sweden and export to England and Germany. The volumes are still not very big, but the products have big potential. And I am learning a lot about the business development. I am a creative soul and like to cook and taking a path as an entrepreneur pushes you to think differently in terms of profits, gains, losses, contracts, patents and negotiations. I am still learning about many things and he key is to believe in your product and have partners you trust. No obstacles would stop you then.
Kar.ge: What else do you do? Tell us a bit about your food master classes and http://www.anastasty.se/
A.L.: Besides other things I conduct master classes in food, all from Peruvian cuisine to cooking with eggs. I love the sensory part of it: smelling, touching, tasting, cutting. Food master classes is my way to do smth positive, enjoyable, to share the food cultures. To be a culinary diplomat is my way to contribute to peace and joy in the times of problems, crisis and wars.
Kar.ge: What is the main obstacle on the way of developing a business in SWEDEN?
A.L.: My biggest one is lack of time, to find a balance in life, to spend time with my family and keep on developing the concept. I just have to find a solution how to manage it. Also, I hate accounting and again I have to deal with it.
Kar.ge: What are your nearest future plans?
A.L.: I am exploring the possibilities to export the high-quality sunflower seed oil from cold pressed roasted sunflower seeds and looking for a local producer in Georgia. I am also looking for interesting clay bowls and Georgian ceramics for possible export. Please, feel free to contact me if you know any – contact@popkulturfood.com
Kar.ge: Could you share any of your famous recipes please?
A.L.: Sure, "meet" Fried cabbage with Svaneti salt and hazelnuts in browned butter
My winter warming favorite is fried cabbage with svaneti salt, browned butter and hazelnuts. White cabbage is a common veggie all over the world and its tangy taste turns sweet and nutty when fried or roasted. Besides it is healthy and affordable, it makes a perfect marriage with svaneti salt. We need:
800 g cabbage
3 tbp  vegetable oil
100 g butter
150 g hazelnuts
1 tsp svaneti salt
1 tsp shopped parsley or dill
Slice cabbage finely. Fry the cabbage in oil and svaneti salt  on high heat for 3-5 minutes then turn on medium-to low heat and fry  for 20-30 minutes until  the cabbage is cooked through. It can still be a bit al dente, but sweet in taste.
Brown the butter. In a small saucepan, melt the butter over medium-low heat and continue to cook until butter turns golden brown, Skim foam from top, and remove from heat. Pour into a bowl to stop the cooking, leaving any sediment behind; set aside.
Roast hazelnuts on a dry skillet at medium temperature until they send out this delicious scent of roasted hazelnuts. Let them cool and chop them up roughly.
Assemble the plate by putting cabbage, pour over a tbsp of browned butter and chopped hazelnuts. Garnish with parsley or dill.
Enjoy!